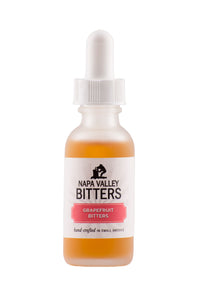 Grapefruit Bitters
Regular price $15.00 $14.00 Sale
COMING SOON
ETA Mid-Late May 2023
Enter Code
NVBSHIPPING
to get 
FREE
 shipping on orders of $35+


-------------
 Bitters are bright, elegant, smooth, and unmistakably grapefruit-y!
Try our delicious Grapefruit Bitters for a twist on your favorite cocktails--the perfect blend of all natural ingredients for an undeniably fresh and delicious flavor. Whether it's champagne, vodka, or gin, the zesty taste of our bitters will give your drinks the perfect finish.
Made with neutral spirits, a sh*t ton of zest from fresh grapefruit zest , dried dried grapefruit, hops, lemon, and orange zest, natural herbs, spices, and house-made grapefruit zest infused rich syrup. 
Use them to perfect your everything Gin, Vodka, and Champagne! Is also great with Sours, Martinis, Vodka & Gin n' Sodas, Vodka & Gin n' Tonics, Champagne 🥂 Cocktails 🍸 , or any other libation needing a giant lift!
〰️  〰️  〰️  〰️  〰️  〰️  〰️
ALL NATURAL. NO ARTIFICIAL COLORS OR FLAVORS EVER.
Hand Crafted in Napa, CA.
🥜 Produced in a facility that processes tree nuts 🥜
 ⚡️ cross contamination is possible ⚡️