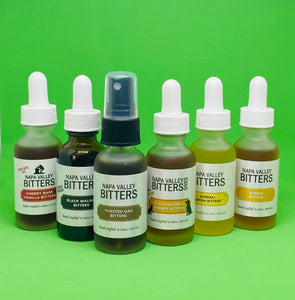 20% OFF - Double Platinum - Cocktail Bitters Gift Set
Regular price $95.00 $74.40 Sale
Enter Code
NVBSHIPPING
to get 
FREE
 shipping on orders of $35+
-------------
Regular Price: $93 - NOW $74.40 - SAVE 20% = $18.60
🎩🍸 The Double Platinum Set - Where Cocktail Dreams Come True! 🍸🎩
Are you ready to elevate your cocktail game to legendary status? Well, grab your shakers, folks, because the Double Platinum Set of 6 exquisite Bitters is here to make your mixology fantasies a reality!
Each bottle in this ensemble is like a gem in a treasure chest, waiting to be unleashed to create liquid perfection. With these bitters by your side, your cocktails are not just drinks; they are experiences, stories, and journeys of the senses.
🔥 🪵 Toasted Oak: Transform your cocktails into liquid gold as you sprinkle the enchanting essence of toasted oak. It's like a cozy campfire in your glass, a warm hug from the hearth.
🖤🖤 Black Walnut Bitters*: Patience is a virtue, and after 18 months of crafting, these bitters are bold, beautiful, and ready to elevate your mixology game to superstar levels. Add depth, character, and intrigue to your libations.
🍒 🪵 Cherry Bark Vanilla Bitters: Remember when we said "vanilla is an aphrodisiac"? Well, we meant it! Let this sensual blend of cherries and vanilla ignite your passion for mixology. It's back by popular demand, and it's ready to make your cocktails sizzle!
🎩 🍊 Old Fashioned Orange Bitters: A classic touch of old-timey charm, infused with orange zest and a delightful spice blend. It's like a time machine for your taste buds, taking you back to the golden age of cocktails.
💰 🍋 Eureka! Lemon Bitters: Experience lemony goodness like never before, hand-picked from local, organic lemons. Squeeze some zesty sunshine into your drinks and savor the tangy brilliance.
💪 🫚 Ginger Bitters: This one is a powerhouse of flavor, boasting robust ginger notes with a sweet honey finish. It's like a gingerbread house in a bottle, adding warmth and depth to your libations.
This Double Platinum Set isn't just a collection of bitters; it's the key to unlocking the doors of flavor paradise. Whether you're crafting classic cocktails, mixing up non-alcoholic delights, or experimenting in the kitchen, these bitters are your secret ingredient.
So, what are you waiting for? Become the ultimate mixologist, the flavor magician, and the life of the cocktail party with the Double Platinum Set! 🌟🍸 Your drinks will thank you, and your friends will beg for your secret recipe. Get yours now and let the cocktail alchemy begin! 🍹🪄
〰️🖤〰️🔥〰️🖤〰️🔥〰️🖤〰️🔥〰️🖤〰️🔥〰️🖤〰️🔥〰️🖤〰️
ALL NATURAL. NO ARTIFICIAL COLORS OR FLAVORS EVER.
Hand Crafted in Napa, CA.
 🥜 Produced in a facility that processes tree nuts 
🥜
⚡️cross contamination is possible⚡️

*contains tree nuts