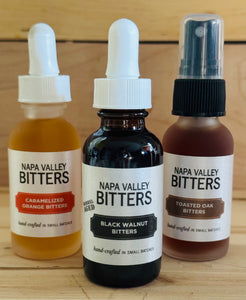 15% OFF - Bourbon Lovers - Cocktail Bitters Set
Regular price $50.00 $42.20 Sale
Enter Code
NVBSHIPPING
to get 
FREE
 shipping on orders of $35+
-------------
Regular Price: $50 ~ Now $42.50 ~ Save 15% = $7.50

Brace yourselves, cocktail lovers, for the thrilling experience of this premium Bourbon Lovers Bitters Set! 

A trio of exceptional bitters for the adventurous palate. Whether you're savoring Bourbon, Rye, Gin, Vodka, Tequila, or Rum, these bitters will transform your cocktails into a flavor adventure like no other.
🖤 🖤 Black Walnut Bitters*: A labor of love, aged for 18 long months, these bitters offer a hauntingly nutty flavor profile that adds depth and mystery to your cocktails.
🪵 🔥 Toasted Oak Bitters: Elevate your drinks with an atomizer of pure oak essence. It's like a whisper of the forest, adding a smoky, earthy dimension to your libations.
🍊 🔥 Caramelized Orange Bitters: The sweet embrace of caramelized oranges creates an explosion of flavor that's both daring and delightful. 
This set is your ticket to a world of bold flavors. Whether it's Halloween, Birthdays, or the Holidays, or any day, the Premium Bitters Set will bewitch your taste buds. Are you ready for a captivating flavor adventure? 🍸🔥
🖤 
〰️
🔥
〰️
🍸
〰️ 🏆 〰️🍸〰️
🔥
〰️
🖤
ALL NATURAL. NO ARTIFICIAL COLORS OR FLAVORS EVER.
Hand Crafted in Napa, CA.
🥜 Produced in a facility that processes tree nuts
⚡️cross contamination is possible⚡️

*contains tree nuts